The event was held on Saturday, 13th of December 2014 in Faculty of Computer and Information Science, Ljubljana, Slovenia. It was one of the most attractive conferences about Microsoft data platform in the region
I was very glad to speak at this event as an independent speaker. My session was about
Entity Framework 6.1 new Features and EF 7 Sneak Peak. Slides are available on the SQLSaturday #356 Slovenia website .
This was the second SQLSaturday in Slovenia.
Administrators of the conference: Dejan Sarka , Mlaqden Prajdic and Matja Lan demonstrated an awesome organization, that is one of the best examples how one event could be organized. They build a very strong team, that arranged everything in the best way. The registrations drop off was less than 5%.
The #sqlsat356 conference venue: Faculty of Computer and Information Science in Ljubljana
Denny Cherry – @MrDenny is talking about indexes in SQL Server
#sqlsat356 lunch break
Milos Radivojevic in action:
SQLSaturday Slovenia raffle and closing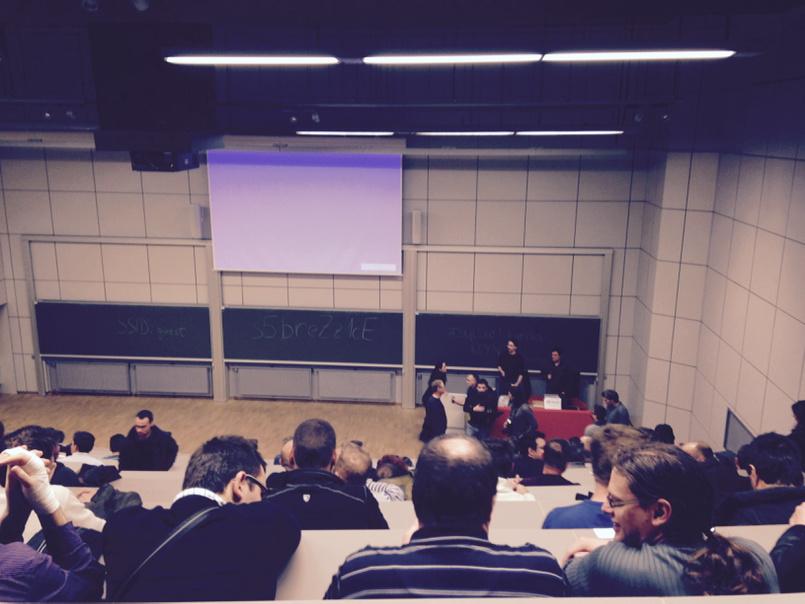 Event statistics:
more than 220 attendees on place
4 tracks
24 technical sessions
Speakers and attendees from 16 countries
If you want more information about the event and PASS community feel free to contact me at michael@mateev.net Follow this event on Twitter with hash tag #SQLSatSlovenia.
You can learn more about the PASS events if you follow me on Twitter @mihailmateev , and stay in touch on Facebook, Google+, LinkedIn and Bulgarian BI and .Net User Group !